Hide and Seek Sleeping Bags

The HIDE & SEEK SLEEPING BAG comes as a complete,
compact SLEEP-OVER concept for boys and girls, from 2
years of age through to their teenage years and longer.
The HIDE & SEEK range has
been developed for those
sleep overs with Granny and Granddad, or for pre-
schoolers, or slumber parties for teenagers.
The HIDE & SEEK SLEEPING BAG concept was born out
of a need to simplify and streamline the number of
items (duvets, sheets, continental pillows and blankets)
usually needed for a sleepover and also to enhance the
outing experience. The result is a functional and trendy,
fully rolled up sleeping bag, which can accommodate a
pillow, allowing for easy carrying and is ready to roll out
in an instant.
The brightly coloured poly cotton fabrics enclose cosy,
comforting hollow fiber inners, which insulate and keep
in body warmth. The extended heavy duty zipper,
allows the sleeping bag to be fully opened as a
comforter, when needed. The sling strap enables the bag
to be carried from the shoulder, freeing the hands for
other activities.

Fabric colour and design is continually
changing to meet the changing fashion trends in the
different age groups.

Plain Fabrics in all Colours also Available
Please email us for special requirements.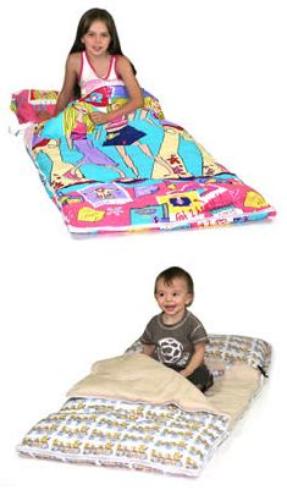 AVAILABLE IN:
Snuggle Sleep Over Bag ( 2 - 5 years of age )
Cozzy Sleep Over Bag ( 6 - 12 years of age )
Cool Sleep Over Bag ( 13 years and over )