Pet Range
Available in a Variety of Colours.
Any of these items can be colour matched to your requirements
All items made in faux leather unless otherwise stated.
Prices exclude Delivery
Our Pet Range has developed from the continued feedback of our many clients. We are asked time and again for a beanbag for pets, since the clients experience that their pets "TAKE OVER" their owners
beanbag, and it is a continual battle to regain possession, from their pets.
Our research has indicated that pets actually like to "NEST " when they settle down. In other words they physically
move round and round on the beanbag, to create a central indentation, where in they settle.
Well, based on this background, we have developed the "
PET
ROUNDER
" with a distinct lower central area
allowing for that nest effect. We have also raised one outer area, to create the effect of a
back rest, for added protection from draughts.
The
PET ROUNDER
is manufactured with the same care for quality and cost effectiveness, as found in the traditional Beanbag range of products. The fabric is Faux Leather, allowing for easy cleaning and maintenance. The
PET ROUNDER
is filled with polystyrene beads which gives insulating properties as well as allowing
your pet to easily create that nested centre, they so like.
The
PET ROUNDER
comes in 4 distinct sizes, catering for the full
spectrum from Chiwawa to Great Dane. Please see sizes below
picture.
Please
Click Here
to see available Colours.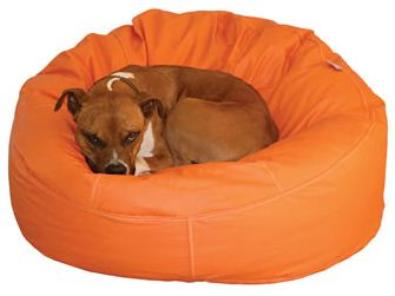 AVAILABLE IN:

Pet Rounder 40cm Diameter
Pet Rounder 60cm Diameter
Pet Rounder 90cm Diameter
Pet Rounder 120cm Diameter

Available in a Variety of colours.
Please see the Materials and Colour page for colour options.